So my friend Todd just finished his thesis research/bike trip down the coast of Norway from Nordkapp and
Svalbard
to Egersund and then a ferry across to Denmark and ride into Copenhagen. (No, he didn't really ride all the way to
Svalbard
, he took a ferry) The picture at the left is of Trollstigen, a famous series of switchbacks northeast of Bergen. From
Todd's blog
(there is a link on the right of this page) here are some stats:
total--2141 km (1330 miles)
avg speed--16.5 kph (10.3 mph)
total ascent--72,836 feet
broken spokes--8 (+ one complete wheel rebuild)
He had quite a trip. He met some fellow nomadic travellers from around the world, and spent lots of nights frezezing and wet camped by an icy stream in which he bathed. Any time he paid for a campground or hotel (electricity and hot water) he felt really guilty about it. He went for the first month of the trip without a trailer, but realized that his bike was overloaded, so he bought one for the last two weeks of the trip to try and avoid getting any more broken spokes (although he had already made it through the most remote parts of his travels and the majority of the trip before he broke down and dropped the kroner on the trailer). I can't wait until he posts some pictures!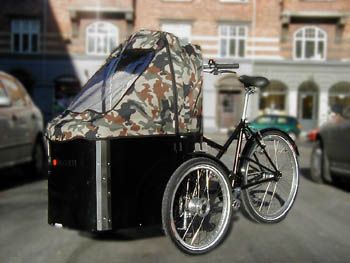 Anyway, he'll be in Copenhagen completing his studies thru February so he deccided to get a new carry-all bicycle for his in-town sojourns. He got a new
Nihola
! I'd never heard of it, but there are a lot of euro companies making
bikes like this
. He says that he has been riding around the city with his fiancee in the front taking pictures of the city. They even put a doggy door in the front of it for their
whippets
. I guess that if Todd is going to be a pedicab driver, it is a good thing he got himself in shape by pedalling the length of Norway!